Magnolia Animal Hospital offers boarding care while you are away from home. We have completely separate areas for dogs and cats. We provide caring and affectionate attention for your special family member. You are more than welcome to come take a tour of our facility. If you would like a tour, please come Mon-Fri from 8:00am-12noon and 5:00pm-6:00pm. Please call our hospital at 919-873-9190 to schedule your reservation. Please note: we do book up fast during the weekend summer time and holidays. Make sure to call ahead of time to schedule these reservations.
Cat Boarding
Our cat condos are quite spacious. We can house several cats from the same household together. Each condo has a perch that your furry friend can sit on and enjoy the view. If our facility isn't completely booked, your cat may enjoy adjoining condos, where he/she can travel back and forth through a passage way that can be opened or closed. We also offer your cat some time to play. Next door to our condo room is a spacious playroom. Only same household cats may be in the playroom together. Here they can curl up on the couch, chase a ball across the room, scratch on the posts or even watch a good show on the t.v.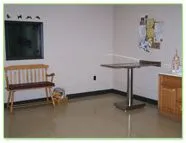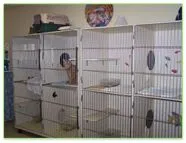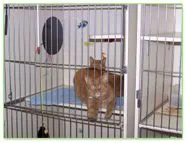 Dog Boarding
We offer several facilities for our dogs. Our large breed dogs, or multiply family dogs, can enjoy their stay in our runs. They average about 6ft x 4ft. We also offer 4 different size cages for our smaller breed dogs. We walk your faithful companion 2-3 times daily (depending on weather). During their walks, they get played with, petted and of course, loved.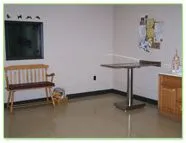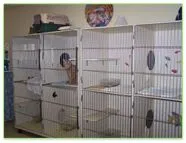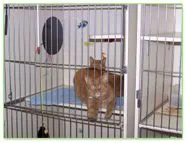 Drop off and Pick up schedule
Our hospital hours are Monday, Wednesday, Thursday and Friday from 7:30am-6:00pm, Tuesday from 7:30am-8:00pm and Saturday 8:00am-12:00 noon. Pets may be dropped off anytime during those hours. We do offer pick up only on Sunday between 5:00pm-6:00pm. Our hospital is not open during that hour for anything but boarding pick up.
Fees
Our boarding charges are based on the number of nights your pet stays with us. We require a pre-approval on a credit card in order to book your boarding reservation. We will inform you of this when you call to schedule a reservation. If you do not have a credit card, you must come in and pay a deposit before we can schedule the reservation. We require a 72 hour cancellation policy. If the reservation is cancelled less than 72 hours before the scheduled stay, there will be a charge billed to your credit card.
Vaccines
We require that all of our boarders be current on their vaccinations. For dogs, this includes Distemper/Parvo, Rabies, and Bordetella (which is required every 6 months). For cats, we require Feline Distemper and Rabies. If your pet's vaccinations are not current, they must be administered before your pet is brought into the boarding area. If your pet has not been to our facility before, please bring a copy of his/her vaccine records or have them faxed to 919-873-9510. Without these records, we will have to vaccinate your pet.
Diets
We feed Purina ProPlan, chicken and rice for dogs and salmon and rice for cats, twice daily. Please let us know if you would prefer your pet on a different feeding schedule. If your pet is on a different type of food, you're welcome to bring that in. If your pet is on a special diet, one that we do not offer, you must bring his/her food when you come.
Medical Conditions
If your pet is on medication, please bring this with you at check in. We will administer it accordingly at no additional charge. If you forget your pet's medication, there will be a charge for the medications used.
Bedding, Toys, Bowls
We provide blankets, towels, food and water bowls for all our boarders. We would prefer to use our own so that your personal items do not get misplaced or damaged. If you prefer to use your own belongings, please be aware that they may not be returned to you.